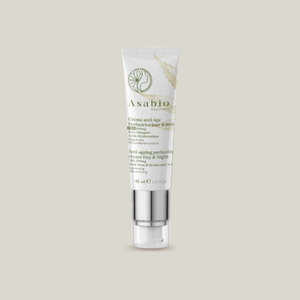 With the perfecting anti-aging cream day and night, find a glowing and sparkling skin while enjoying the benefits of hemp, CBD, hyaluronic acid and musk rose.
The hemp seed oil present in this perfecting anti-aging cream contains a high level of fatty acids, vitamins and minerals, deeply hydrating the skin. To strengthen its action, ASABIO laboratories have incorporated CBD (Cannabidiol) into this product: a powerful cannabinoid from hemp, which is recognized for its strong anti-oxidant and regenerating power for skin cells. Also present in this anti-aging cream, hyaluronic acid: it fills the empty spaces between the cells, thus making the skin smooth and silky. Finally: the musk rose. It is known to quickly regenerate cells to reduce stretch marks.
100% organic and natural ingredients.